She shares how this revolutionary treatment transformed her booty!
By now you've surely heard of EMSculpt®, the world's first and only procedure that simultaneously builds muscle and burns fat… without breaking a sweat. Using a revolutionary electromagnetic technology, EMSculpt improves the tone and shape of the stomach and buttocks without surgery or downtime… and it's taking Vancouver by storm.
Recently, photographer and influencer Karolina Turek visited Project Skin MD to try EMSculpt for herself; in fact, she was one of the very first patients in Canada to try the treatment! Her goal? To lift and tone her buttocks! Lucky for you, she's agreed to share what her EMSculpt treatment was really like, and how she feels about her unbelievable results.
1. Why did you decide to have an EMSculpt treatment?
I was very curious about this ground breaking technology and was really excited to be one of the first in Canada to try it.
2. What was the treatment like? Did it hurt?
The treatment was a little uncomfortable for the first few minutes of each session until I got used to the pulses and contractions, but it does not hurt.
3. How did you feel in the days following your treatments?
After the procedure and for a few days after, I felt like I did a 15 minute glute workout. The soreness was very mild.
4. When did you first start noticing results? Are you happy with your final results?
After my 4th treatment when I received my before and after photos, I was blown away at the results. I'm super happy with how EMSculpt perked up my booty, and I'm trying my best to maintain my results by working out regularly.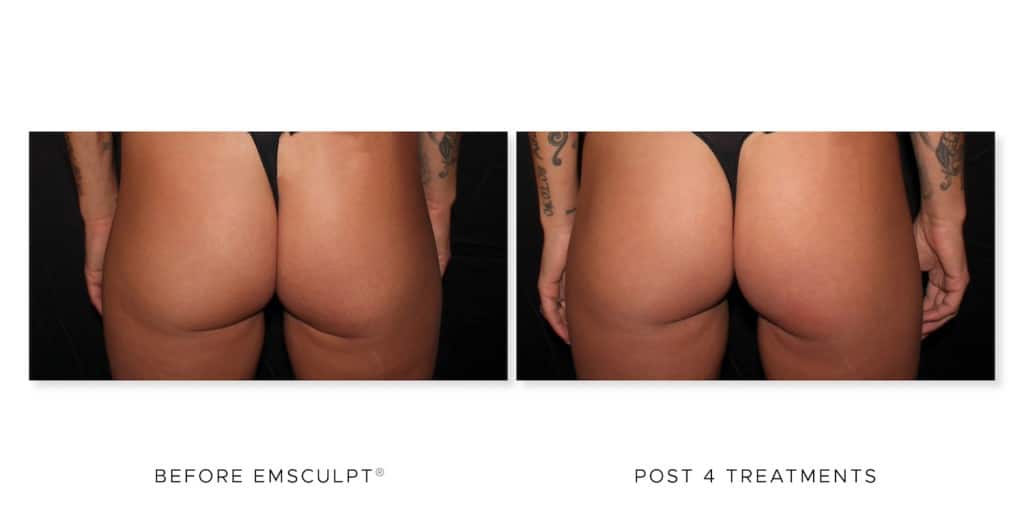 5. Would you recommend the treatment to a friend?
Absolutely, the results are almost instant!
EMSculpt is a pillar treatment offered through the The Body Project at Project Skin MD – a treatment menu to empower self + body. Contact us to learn more about The Body Project.