Lip injections with dermal fillers offer a wide range of benefits when provided by an experienced provider with proper technique. Our expert physician and nurse injectors at PS have mastered the art of subtle, natural and beautiful lip injections.
We connected with Dr. McGillivray, Medical Director and Founder of Project Skin MD, for his insights on lip filler treatments from over 2 decades of experience as an aesthetic medicine physician. As a recognized expert and educator in the industry and with lips treatment results that have made it into Vogue on more than one occasion, there is no one better to speak to how to enhance your lips – for something you can't help but smile about!
What are the benefits of lip fillers?
While some patients are interested in a plumper pout, the majority of patients are looking for a natural enhancement or to restore the appearance of their lips from younger years.
When providing a lip filler treatment, it is important to consider the patients age, goals and natural anatomy, Dr. McGillivray says. In younger patients, lip filler can establish a more symmetrical lip appearance, build subtle volume, and restore hydration to dry lips. Lip fillers are comprised of Hyaluronic Acid (HA)—a naturally-occurring sugar found in the body—that binds to water found in the lips to restore hydration and provide a "gloss without the gloss" effect, as Dr. McGillivray calls it.
Lip filler can restore the decrease of volume and loss of lip border definition that occurs as we age. For patients who have lost volume in the midface, injection into that area before treating the lips can lift the corners of the mouth for a happier and softer resting expression, Dr. McGillivray explains.
Each treatment is customized to the individual, considering the natural anatomy and ratio between the upper and lower lips, face shape and face profile of the patient for beautiful and natural outcomes.
What should I expect during and after treatment?
After listening to your goals and developing a treatment plan, we offer numbing 15 minutes prior to treatment and ice during treatment to minimize any discomfort.
Injecting the lip filler slowly during treatment also helps minimize discomfort, Dr. McGillivray shares. To reduce the chance of any swelling or bruising, it is best to avoid alcohol, Aspirin, Ginkgo biloba, green tea and antioxidant supplements during the week leading up to your treatment if possible.
When will I see results and how long will they last?
You will see results immediately, with the best results within 1-2 weeks. Results will last upwards of 6 months, and Dr. McGillivray recommends Functionalab Collagen Infusion lip serum to further enhance your results.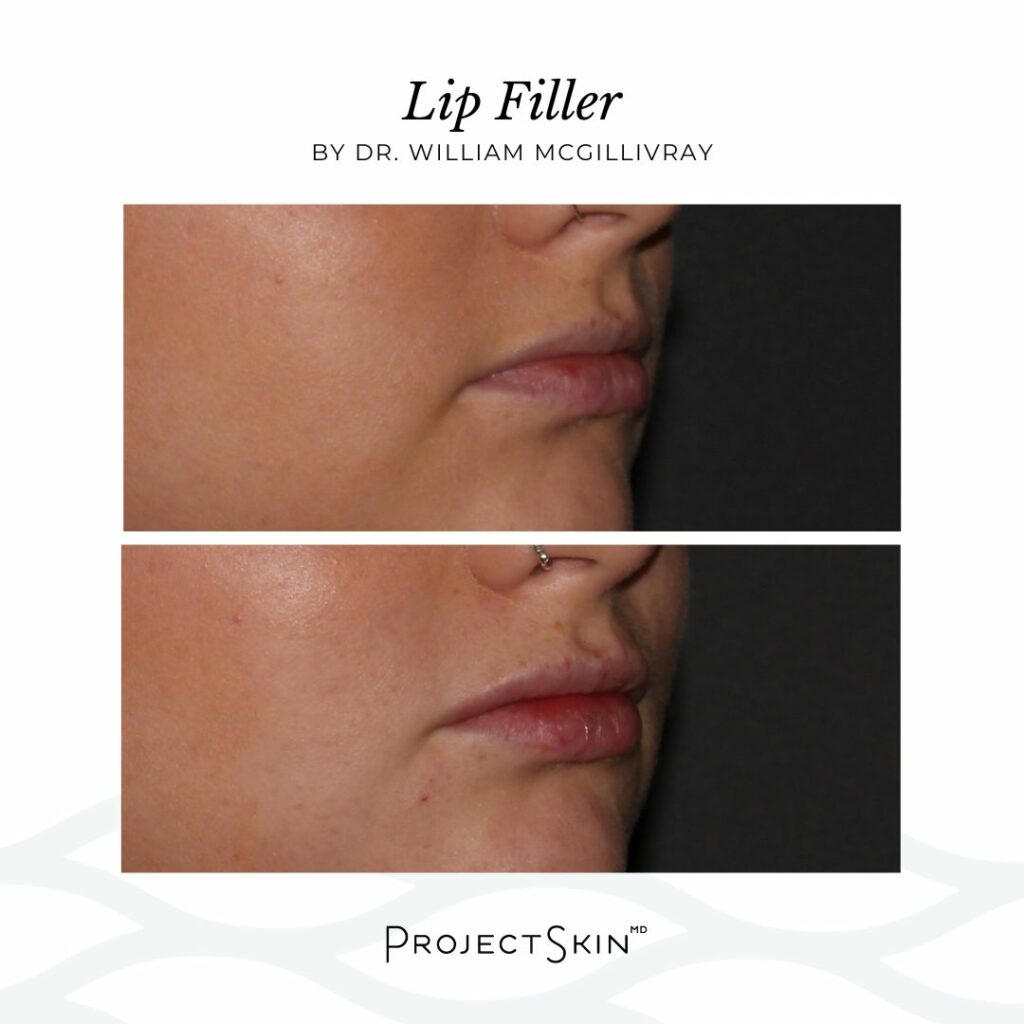 "I came to see Dr. McGillivray looking to add a little volume to my lips and enhance their natural shape. My results are subtle yet have made a dramatic impact to the overall appearance of my face—I find myself smiling more, with an added boost of confidence."
– Vikki, Patient of Dr. McGillivray
Contact us to schedule a consultation with Dr. McGillivray.