Brought to you by the makers of Fraxel®, Clear + Brilliant® is the perfect introduction to fractionated laser treatments. This multitasking laser rejuvenates the first signs of aging, refines pores, brightens and evens out skin tone with minimal pain or downtime.
It is no wonder it is a favourite treatment amongst our PS Ambassadors. We asked Kristina Matisic, who had her first Clear + Brilliant® at Project Skin MD Vancouver in 2013, about why this is a treatment she comes back to, time and time again.
Hi Kristina! First things first—what interested you in a Clear + Brilliant® treatment at Project Skin MD?
I tried Clear + Brilliant® years ago and really liked the results. When my skin needed a refresh, I knew it was time to go back for a tune-up!
What was your treatment experience like?
I simply adore Amanda, the Medical Aesthetician at Project Skin MD® who did all my treatments. She's just the loveliest person and always made each visit so comfortable.
I didn't use numbing cream for my treatments, so I have to admit, it did hurt a tiny bit. Thankfully at Project Skin MD® they always offer a cooling wand to direct at your face. Once my treatment was complete, I also really enjoyed the cooling mask that was applied, it felt so refreshing!
For a couple of hours after the treatment, my face felt a bit sensitive. It was a bit red in spots, and a bit white/pale in others. The following morning I did notice a tiny bit of swelling on my cheeks, but not to the point that anyone else might notice. So no real downtime to speak of. A few days later, my skin started to feel a little bit like sandpaper. And then by a week later, the rough skin sloughed off. If anything, I looked a little rosy or sunburned in the days after the treatment, but again, nothing that a little bit of makeup wouldn't cover up. I made an Instagram Reel of my treatment experience you can watch here.
Are you happy with your results? What changes have you seen in your skin?
My skin definitely felt smoother and brighter in the weeks following the treatment. A lot more so than when I get the average facial or even any other any other treatment that I've tried. It really feels like it's doing something. I like Clear + Brilliant® treatments because there's no downtime, the pain is manageable, and you can definitely see results. What more can you ask for!?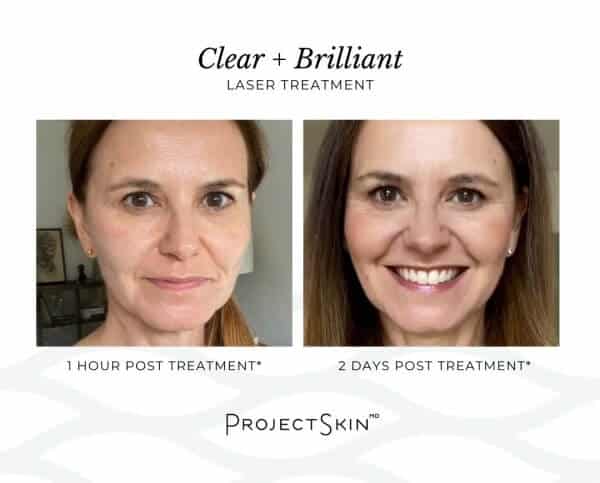 For more on Kristina's PS Experience, you can check out the article she wrote for Fresh Magazine here.
Kristina Matisic, the head of Kristina Matisic Creative public relations and content creation agency, has spent much of her career reviewing and testing products and services. From TV shows (The Shopping Bags) to articles, to a book, and now online, she loves finding and reporting on the best pieces, products and services for her and her followers. You can find her on Instagram @kristinamatisic and at www.kristinamatisic.com.
We are here to support and empower you to feel your best in your skin. Contact us to book your a consultation to tailor a skincare plan uniquely for you, that is aligned with your goals – and your budget!
* Disclaimer: These photos are published for information purposes only to provide information on the nature of the treatment. They do not constitute a guarantee of results and are taken with permission.