Ready for your best glow yet?
Combining medical-grade dermabrasion, serum infusion, microcurrent technology and hydrogen water delivery, bela md is the treatment that does it all, now available for pre-booking in the Project Skin MD Glow Room!
In our latest episode of IGTV, Business Director Vanessa Grutman hosted our very own Director of Training and Medical Aesthetician, Jessica Berto, to give us the inside scoop on this exciting new treatment. Jessica, who is dedicated to innovating new treatment protocols and researching technologies for Project Skin MD, shared why she is excited about our newest treatment.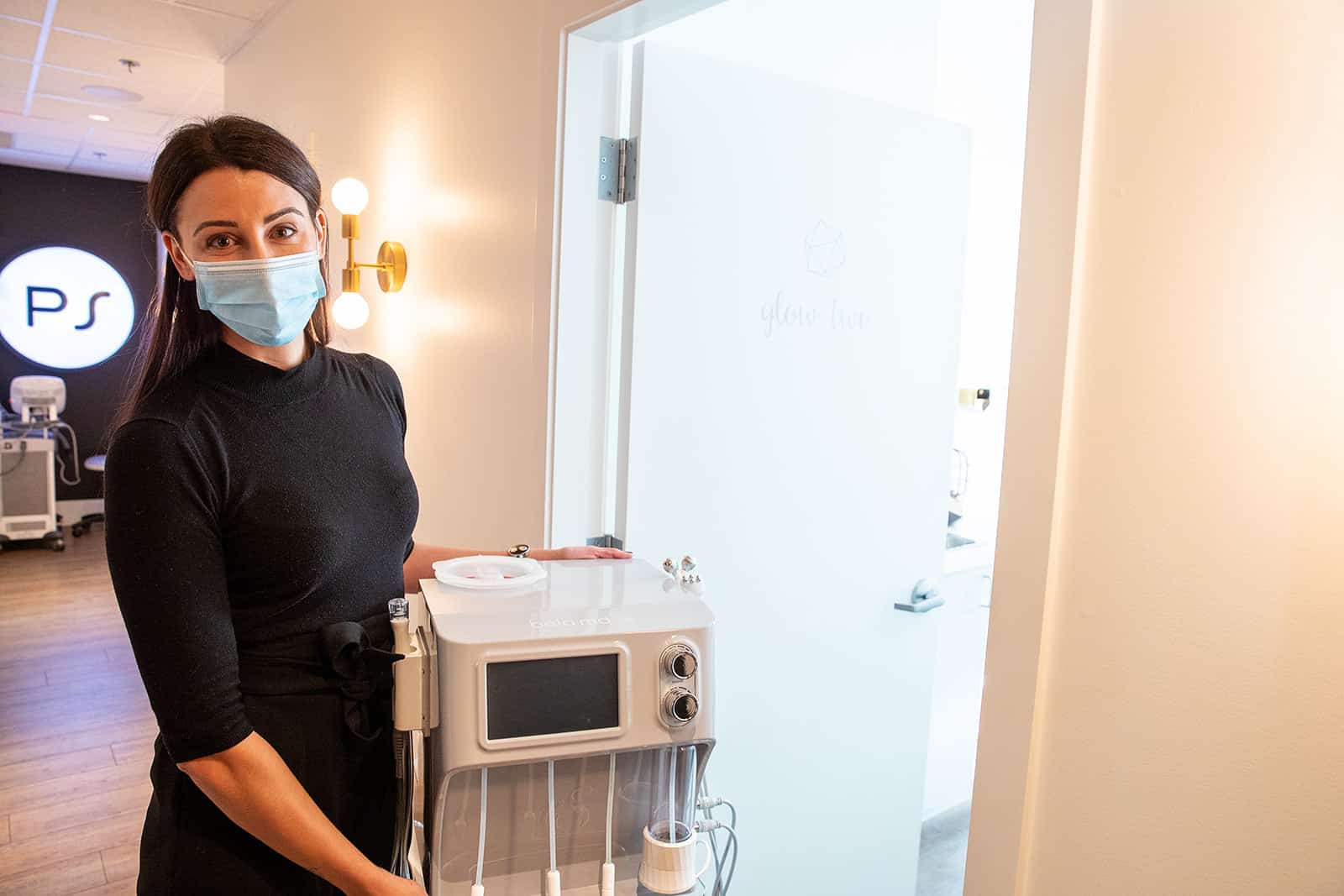 How does it work?
Now available in the Project Skin MD Glow Room, bela md brings your glow to the next level in the following ways:
Medical-grade dermabrasion – diamond-tip microdermabrasion is carried out on dry skin, to exfoliate the skin and remove debris.
Advanced serum infusion – temporary micro-pores are created in the skin to infuse hydration with customized serums that target fine lines and wrinkles, acne and congestion, pigmentation or skin radiance.
Micro-current Electrical Neuromuscular Stimulation (MENS) – micro-current and muscle massage provide muscle stimulation and toning while boosting circulation and improving lymphatic drainage.
Hydrogen water infusion – Hydrogen water has many benefits for the skin, including neutralizing free radicals, reducing inflammation, boosting brightness and delivering hydration.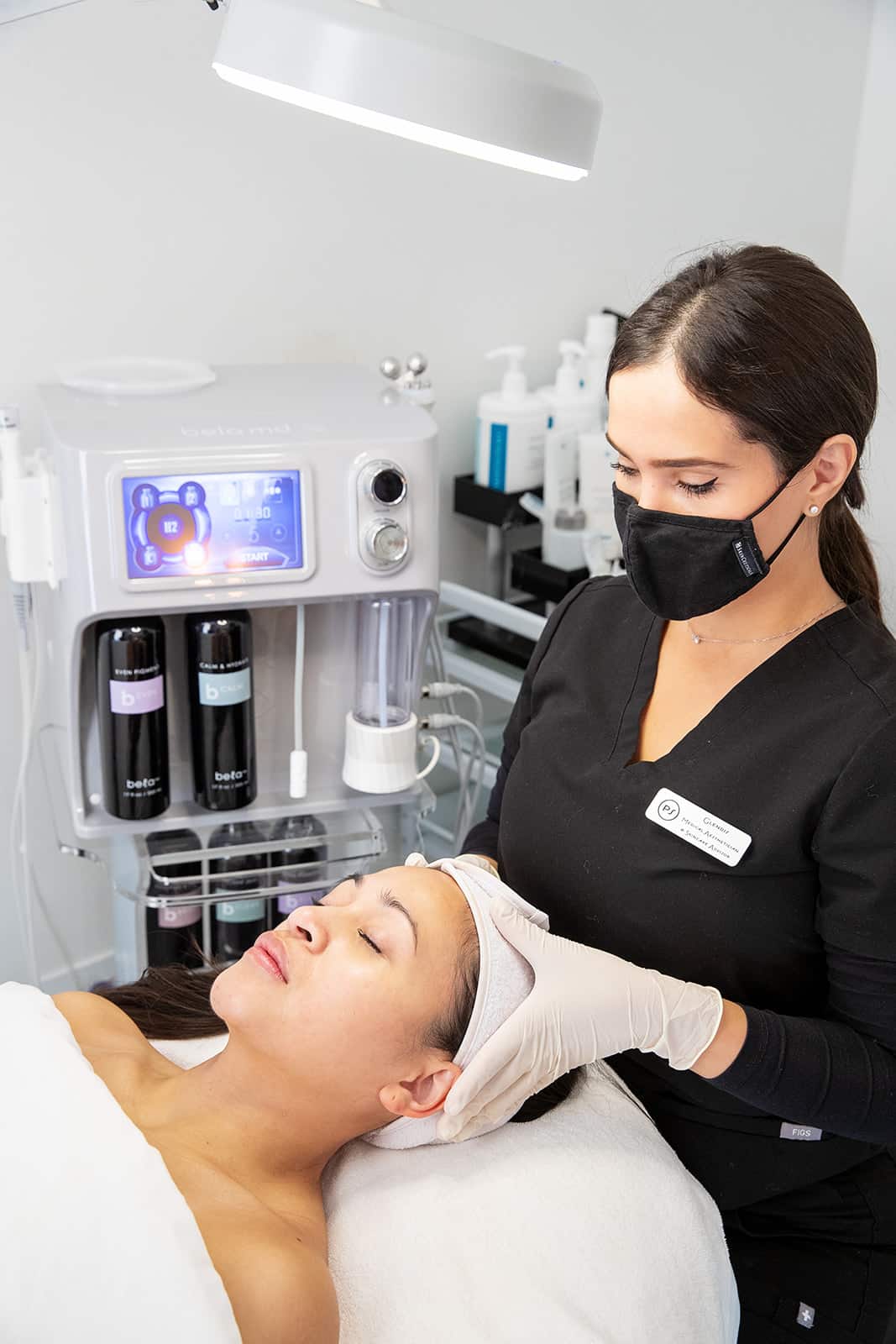 What skin concerns does bela md address?
Your bela md treatment will be tailored to your unique skin needs with one of four potent serum infusion options:
bBRIGHT – provides antioxidant action to soothe, brighten and improve skin texture.
bCALM – boosts hydration, replenishes the skin barrier and increases the skin's firmness and elasticity.
bCLEAR – reduces excess oil production, clears congestion, calms and soothes inflamed skin.
bEVEN – brightens complexion, evens skin tone and helps reduce the appearance of sun damage, age spots and hyperpigmentation. #PSTip: We always recommend a multi-faceted approach to address pigmentation concerns. Jessica followed up a bela md treatment with Clear + Brilliant for an unmatched glow!
All bela md serums are free from propylene glycol, parabens, fragrances and gluten.

What are my treatment options?
We will be offering bela md as apart of two treatment offerings in the Project Skin MD Glow Room: the Glow-Up for $255 (60 minutes) to give your skin a lift and glow with bela md and MAX+ Light Therapy with yellow light, and the comprehensive Bela Glow Facial for $295 (75 minutes) which includes a complete PS customized facial enhanced with a tailored bela md treatment.
How many treatments will I need?
We suggestion you book a personalized consultation to determine the protocol best suited to your skin needs. We typically recommend 3-6 treatments spaced 2-4 weeks apart. With treatments currently booking 5 weeks out in the PS Glow Room (as a result of our staggered schedule to continue to ensure your safety as our number one priority), we suggest you contact us to pre-book today!
bela md treatments will be offered at both our PS Vancouver and Richmond locations.
Contact us to book your bela md treatment today!