As we age, natural collagen production decreases, leading to skin sagging and wrinkles. Lucky for us, treatments like Ultherapy® and Radiesse® can stimulate collagen production within the skin to reverse these telltale signs of aging.
Better yet, combining these two treatments can provide more comprehensive results than either treatment alone. Dr. Jacky Lo, Cosmetic Physician at Project Skin MD, is our resident expert on this powerful duo, which can help patients achieve smoother, tighter, and more youthful-looking skin on both the face and body. We connected with Dr. Lo to learn more about Ultherapy® and Radiesse®, and benefits of bundling them together.
Q: What are Ultherapy® and Radiesse®?
Dr. Lo: Ultherapy® is a non-invasive skin tightening treatment that uses ultrasound energy to stimulate collagen and elastin production, while Radiesse® is a unique type of dermal filler that stimulates the regeneration of collagen type I, collagen type III and elastin. Radiesse® is made of calcium hydroxyapatite microspheres, a mineral naturally found in the body, that once integrated into the skin serves as a scaffold for the growth of new natural collagen and elastin. Where Ultherapy® helps to lift and tighten the skin, Radiesse® improves skin quality by increasing skin elasticity, smoothness, and texture.
Q: Who is the ideal patient?
Dr. Lo: The ideal patient for both Ultherapy® and Radiesse® would be an individual with mild to moderate skin laxity, skin sagging, with or without skin texture concerns. At Project Skin MD, we provide Ultherapy® treatments for the face, jawline and neck, and Radiesse® treatments for the face, jawline, neck, decolletage as well as the hands, arms, knees, and to treat cellulite in the buttocks.
Q: What are the benefits of combination therapy with Ultherapy® and Radiesse®?
Dr. Lo: Ultherapy® and Radiesse® work synergistically to improve skin tightness and texture in different ways. Ultherapy® works in the deeper layers of the skin to decrease skin sagging, lines and wrinkles, and smooth skin texture. Radiesse® is injected more superficially under the skin's surface, resulting in an improvement in skin thickness, elasticity, and pliability. Patients can expect greater improvements in their skin quality with the combination of these two treatments than they would achieve through either treatment alone. Another benefit of combining Ultherapy® and Radiesse® is that it allows the provider to better tailor the treatment to the needs of the individual. For example, if a patient has more significant sagging or volume loss in certain areas of the face or body, the injector can use a higher dose of Radiesse® in those specific areas. Because both Ultherapy® and Radiesse® are minimally invasive treatments, combining the two does not result in increased downtime after treatment—in fact, there is none!
Combining Ultherapy® and Radiesse® is an effective way to address the signs of aging and improve the quality and texture of your skin. Working together to target different layers of the skin, these treatments provide customized, long-lasting results. If you're considering these treatments, be sure to consult with a qualified professional to determine if they're right for you.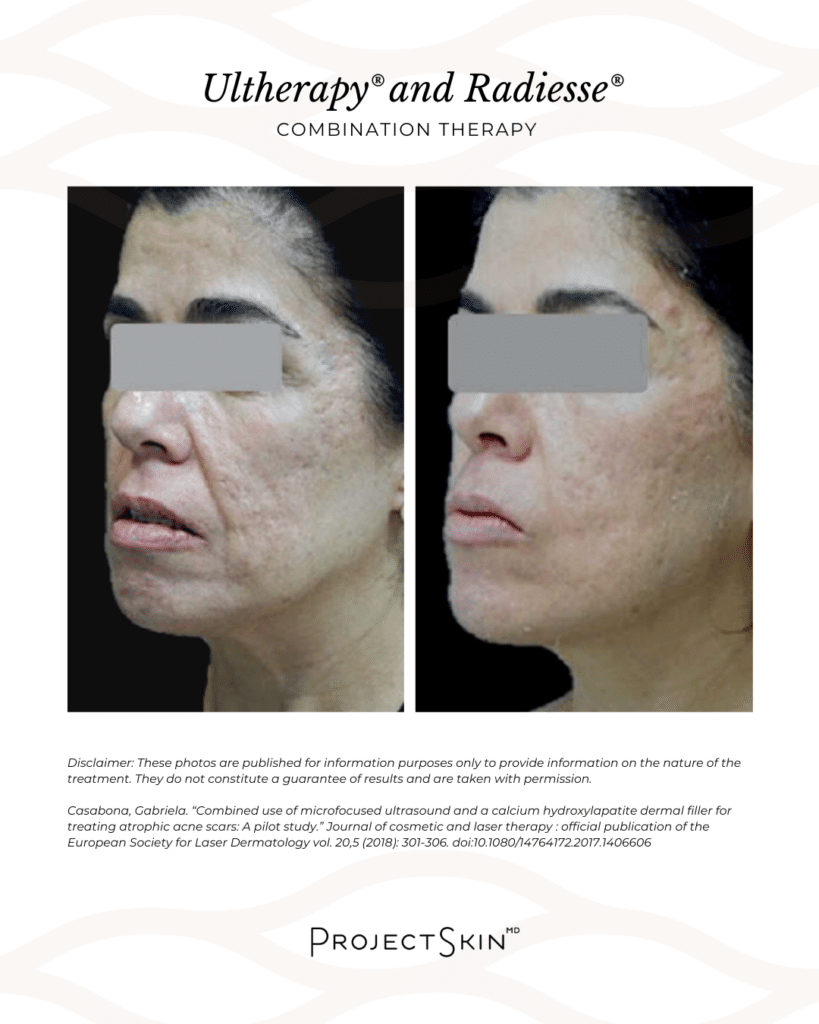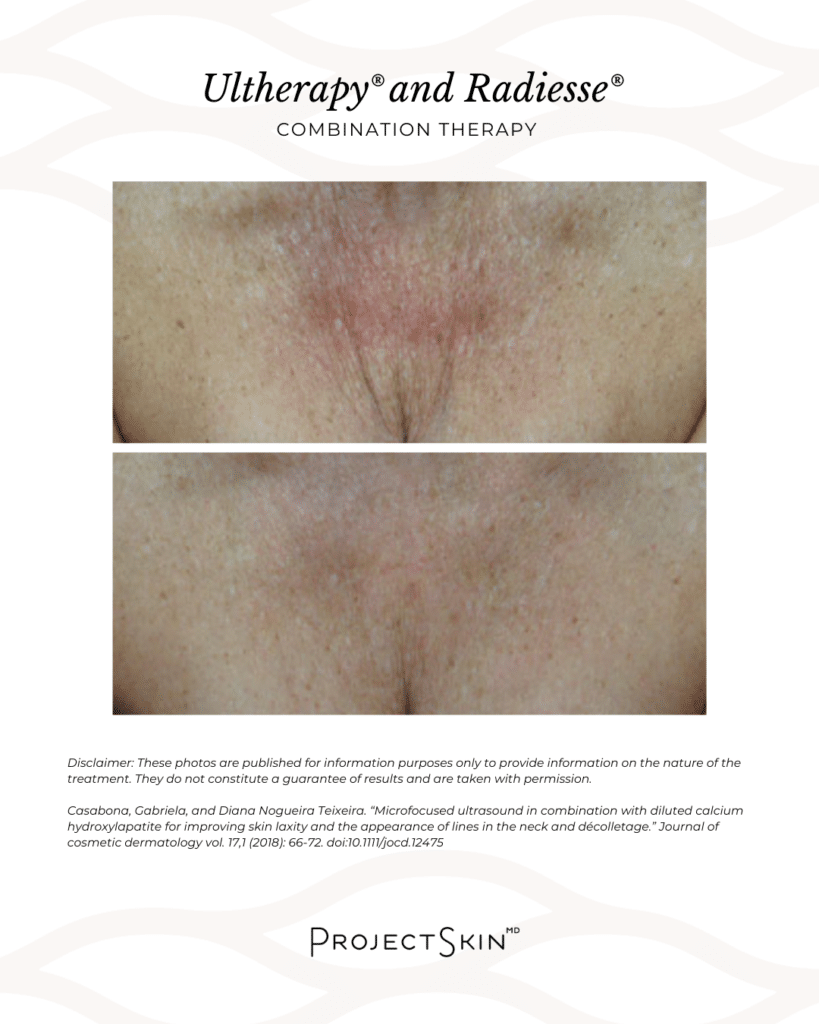 Q: How many treatments do you recommend?
Dr. Lo: Ultherapy® is recommended once a year, and Radiesse® can be done up to once every 4-6 weeks depending on the results the patient wants to achieve. The results from both treatments are expected to last for a year or longer.
Q: When will patients see results?
Dr. Lo: You can expect to see initial results from Radiesse® immediately after treatment, with the full results from new collagen production and skin quality improvements continuing to unfold over a course of 10 months. The results of Ultherapy® are most noticeable 3 months post-treatment.
To schedule a consultation with Dr. Lo, contact us today!