Beautiful bodies come in all shapes and sizes. Achieving body confidence is something that is unique to each of us, and some of us find ourselves curious about how body contouring treatments can help achieve our goals. If this is you, we are here to support you on that journey!
In our latest episode of IGTV, Business Director Vanessa Grutman connected with Project Skin MD Clinical Lead, Stephanie Hewitt, to talk about Coolsculpting Body Contouring and how this treatment helped Steph on her personal journey towards her body goals.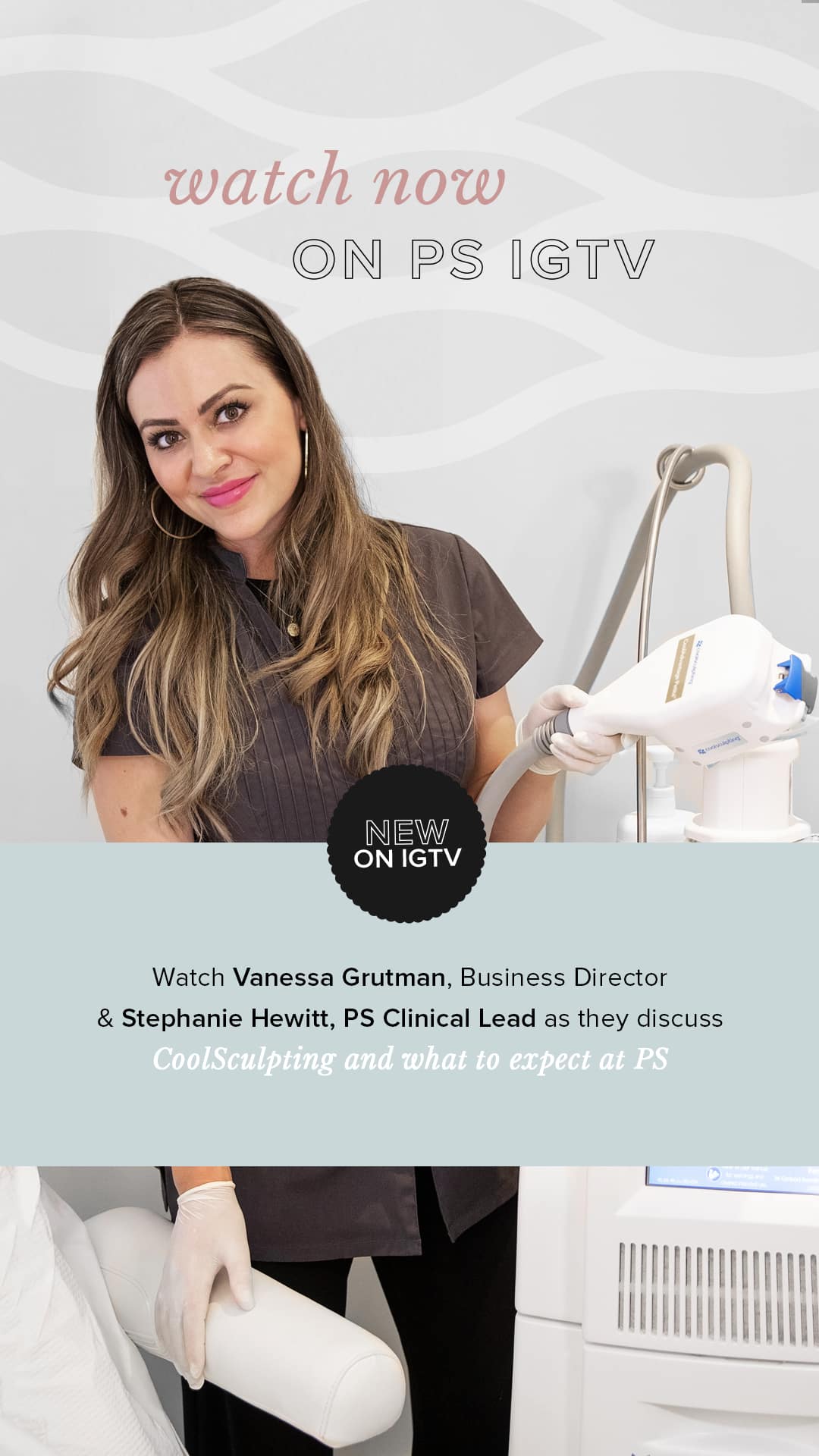 Note: this photo was taken prior to the COVID-19 pandemic and now appropriate PPE is worn during treatment.
As one of the founding members of Project Skin MD, Steph is a wealth of knowledge on all of our treatments. She is our lead Coolsculpting provider and the perfect person to work with you on how to reach your own body goals – with absolutely zero judgement.
Follow the link to Book Now at the top of this page or send us an e-mail to schedule your FREE assessment with Steph today!
CoolSculpting® is a non-invasive, fat-reducing technology that uses cold to destroy fat cells. Each treatment can be personalized to meet your goals and reduce volume in a wide-variety of body areas. There is no downtime required, and you can return to your normal activities right after treatment.
You might be wondering, how are different body areas treated and unique outcomes achieved using the same technology?
Steph broke it down for us in the IGTV interview:
In your assessment, she will work with you to create a treatment plan combining a unique numbers of cycles (the 35 minute sessions where the machine is attached to a certain area on the body) and applicators (the machine handpieces that come in different shapes and sizes) to meet your goals.
Based on the combination of cycles and applicators selected, Steph can contour the body in a way to achieve a tailored result.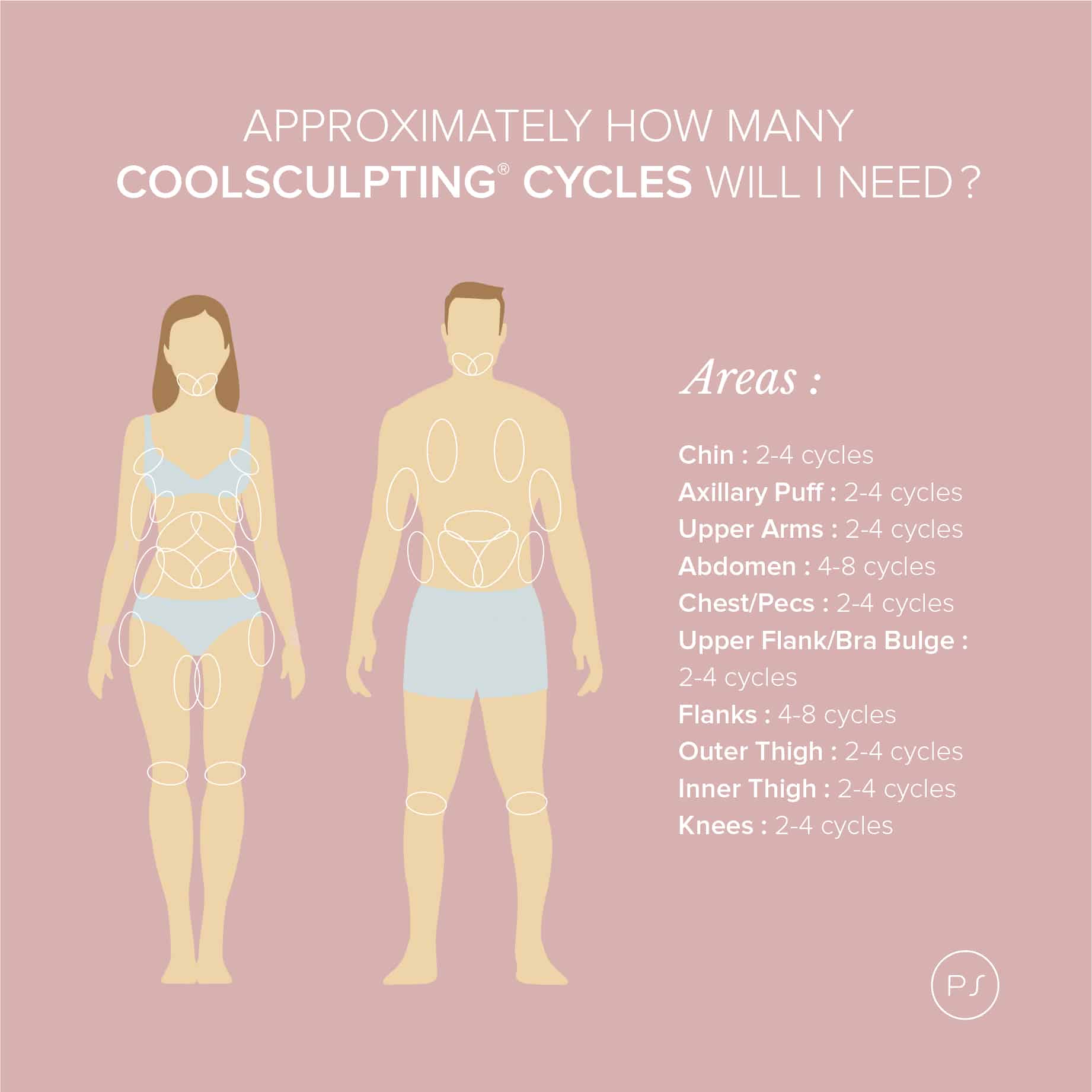 The applicators come in many sizes, which allow us to treat different areas of the body including under the chin, the axillae (or bra-fat), arms, abdomen, back, buttocks, thighs, above the knees and more!
The different shapes of the applicators also play a role in your treatment outcomes – think an hour-glass figure vs. an athletic, straight-up-and-down look – and will be selected based on your individual goals.
The results from your treatment will unfold over a period of 12 weeks, in which time your body breaks down and excretes the fat-cells that were killed during the treatment. At this point a second treatment may be recommended, to further contour the body and achieve your most flattering silhouette.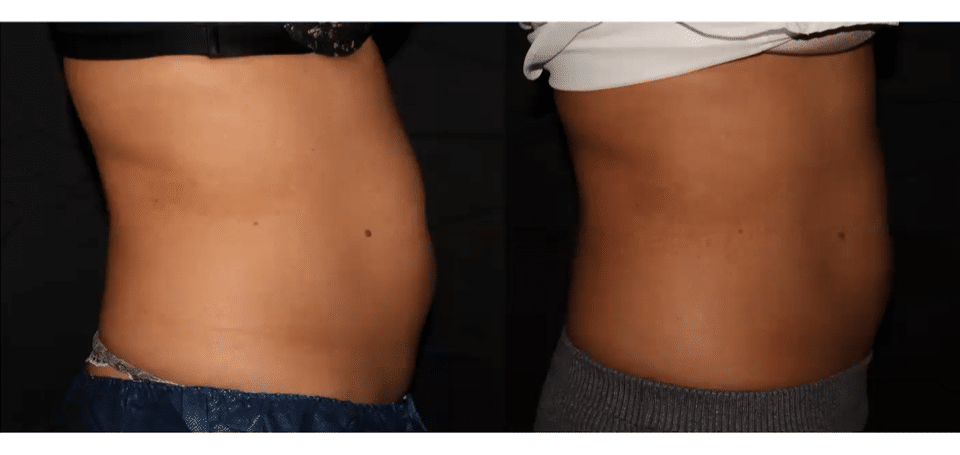 Steph's Before (left) and After (right) photos from 1 Coolsculpting Treatment
Steph shared the results from her own treatment with us. As someone who embraces her beautiful natural curves, she was looking to accentuate her hourglass figure and reduce a little volume in her midsection, which has always been an area resistant to exercise on her body. Her results gave her the extra body confidence she was hoping for on her wedding day!
Coolsculpting treatments are now apart of the Brilliant Distinctions Program through Allergan, a rewards program to build cost savings on Coolsculpting treatments as well as treatments like BOTOX® Cosmetic and Dermal Fillers.
Interested in learning more? Contact us for a free body consultation with Steph today!