Total skin renewal while you sleep!
SkinCeuticals Glycolic Brightening Renew Overnight is new to Canada – and it's already making waves! Here's why we're excited to start sharing this product with you: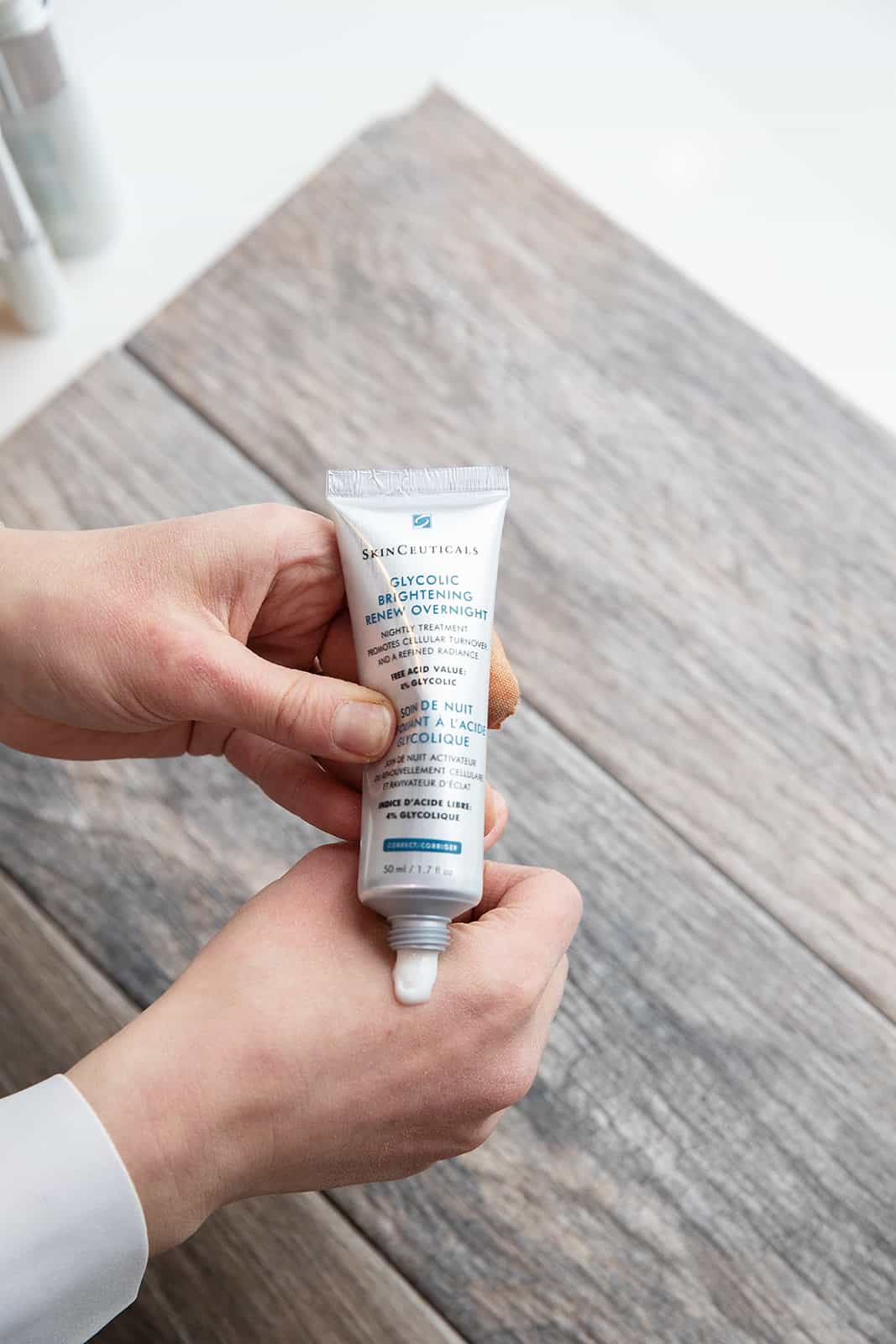 We already love SkinCeuticals for their advanced products and results.
Transparent research, innovative products, and holistic formulas that do what they promise. But this new product may just be our favourite! Here's why.
Why is Glycolic Brightening Renew Overnight special?
Glycolic Brightening Renew Overnight is a cream formula that effectively exfoliates and promotes cell turnover for brighter, more toned, more even skin. This product rejuvenates skin at a deeper level using a 6% concentration of glycolic acid. It's powerfully rejuvenating while being gentle enough for regular nighttime use.
What does Glycolic Acid do to rejuvenate skin?
Glycolic Acid is one of the most effective exfoliators because it removes all that dulling buildup on the surface of your skin, letting cells regenerate and freeing clogged pores. Glycolic Brightening Renew Overnight combines a high concentration of 6% glycolic acid with 2% phytic acid.
We appreciate the art of multitasking, especially when it comes to skincare.
This product is small but mighty: exfoliating, renewing, and protecting.
Curious about what else it can do for your skin?
> Triggers cell turnover and new growth
> Soothes and builds a protective barrier to shield skin from future damage
> Improves texture and tone
> Phytic acid helps brighten and clarify skin for a fresh glow
What if I've never used products with Glycolic Acid before?
Many people find their skin reacts positively to glycolic acid right away. If you're unsure, start with a patch test by applying the product to the inside of your forearm and waiting 24 hours. If you don't observe any redness or irritation, you can start by using this treatment every other night until your skin becomes accustomed to the effect.
What else should I know about Glycolic Brightening Renew Overnight?
If you're considering a chemical peel, this product can help prepare and condition your skin, or extend results. An 8-week clinical study found an average 36% average improvement in skin radiance when using this product, so get ready to glow! This cream is also dye and fragrance free, which is great for those of us with sensitivity to fragrances. Don't forget to ensure your skin is protected during the daytime with a great antioxidant and sunscreen.
Where does it fit in my current routine?
Glycolic Brightening Renew Overnight can be used every singly night.
Shop this fabulous product now!
Book a consultation today – we'd love to help build a skincare plan that gives you an unforgettable glow. Get the skin you've always dreamt of.