Since joining the #PSFamily last year, Dr. Janet Ip has been providing her patients with the best aesthetics has to offer, from lasers to injectables, supporting each on their unique aging journey with compassion and natural results.
Our Business Director, Vanessa Grutman, had the chance to connect with Dr. Ip in our latest episode of IGTV to demystify Dermal Fillers, and review some treatment outcomes from Dr. Ip's very own patients!
Having worked in Medical Dermatology for the last 13 years, and continuing to treat skin cancer and acne, Dr. Ip has found her expansion into aesthetics to be a rewarding extension of her deep-rooted passion for treating skin. While it is a common misconception that aesthetic procedures only impact our external appearance, Dr. Ip (and the rest of our #PSteam) would attest to the incredible impact these treatments can have on self-esteem. Above all else, Dr. Ip seeks to help her patients eliminate any negative emotions associated with their appearance. She loves that with Dermal Fillers, she can see these internal and external changes occurring in real time during treatment!
The most common barrier for Canadian women considering facial injectables is looking fake, overdone or unnatural (66%)*
*Results from a May 2019 survey conducted by Proof Inc. via e-mail invitations to registrants and attendees of the Allergan Beauty Decoded Live Event
If you are apprehensive about Dermal Fillers for risk of looking unnatural, you are not alone. Two-thirds of Canadian women considering facial injectables state the fear of looking fake is their largest concern. At Project Skin MD, it is our philosophy to enhance and restore natural beauty, supporting you on your aging journey as opposed to augmenting your appearance in a way that looks overdone.
During an injectable consultation, your provider will work with you to design a treatment plan that will best address your unique concerns and desires. Dr. Ip seeks to build trust with her patients by collaborating with them on a treatment plan. She believes in a step-wise approach, and often treats her patients over the course of numerous visits to ensure the outcome is everything they dreamed of – she is often as excited as her patients about their results!
Dr. Ip provided the patient in the photo above with a Dermal Filler treatment in the cheeks and the jawline. #PSTip: Dr. Ip explained that restoring mid-facial volume can diminish the look of prominent nasal labial folds and sunken tear troughs, as you can see in the After Photo above, taken immediately after treatment!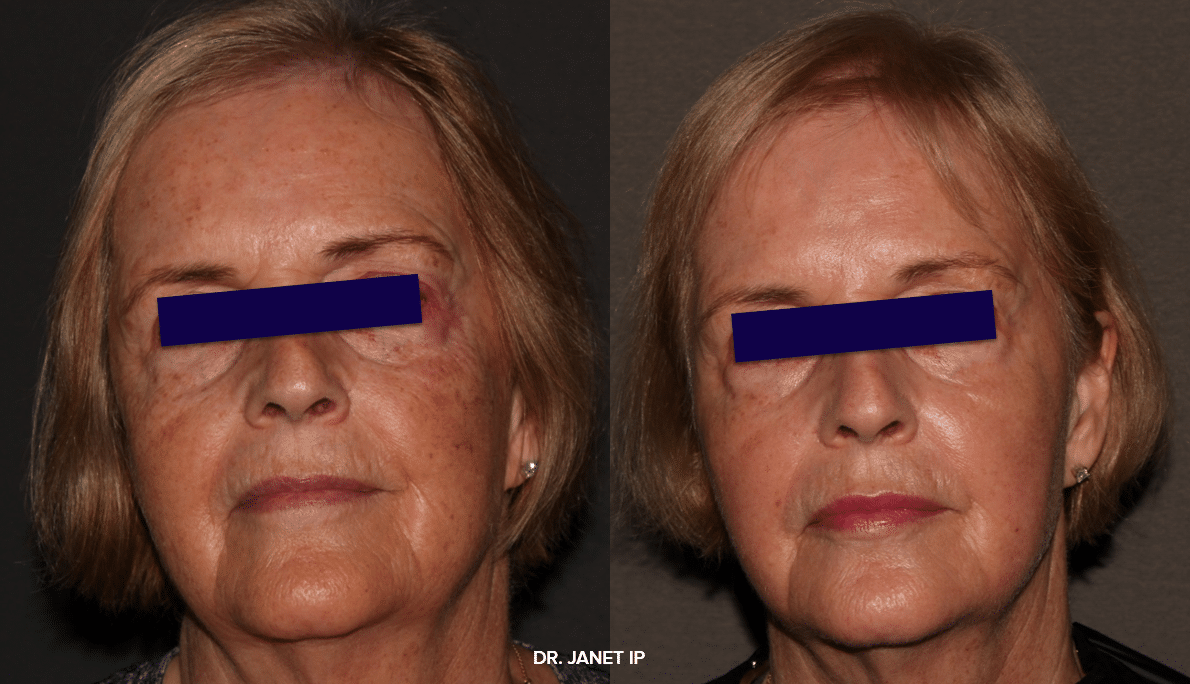 Dr. Ip treated the above patient with a combination of laser and injectables: Fraxel® re:store DUAL to address pigmentation, BOTOX® Cosmetic to address dynamic fine lines and wrinkles on the forehead, and Dermal Fillers to address mid-facial volume loss.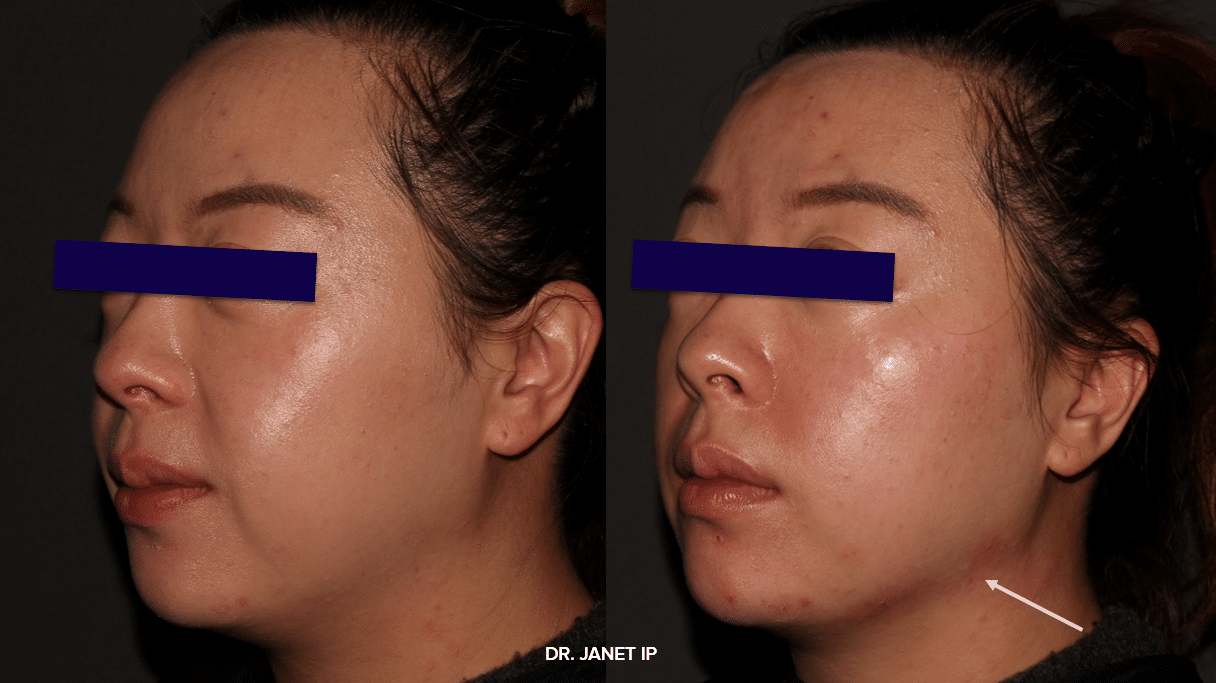 We use Hyaluronic Acid (HA) Fillers at Project Skin MD. HA is a sugar that occurs naturally in the body and depletes as we age, resulting in loss of facial volume and hydration. Our favourite is the JUVÉDERM® line, which has a range of products to address your unique concerns. As you can see in the After Photo above, using a more robust product allowed Dr. Ip to contour the jawline and define the chin. Bonus: because HA is naturally occurring in the skin, allergic reactions are uncommon.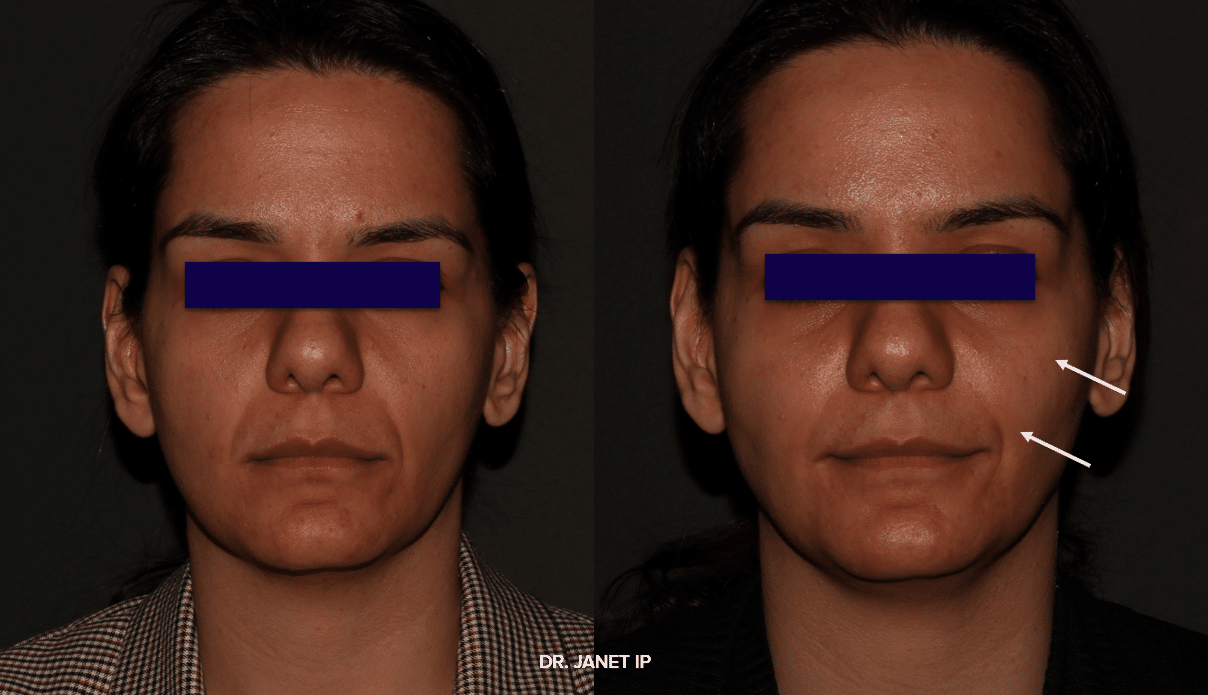 Often patients will express they feel as if their resting facial expression looks tired, sad or angry. In the After Photo above, you can see how restoring mid-facial volume with Dermal Fillers changed this patient's neutral facial expression into a smile!

Above is a perfect example of the natural result that can be achieved with lip injections. A mini-lip treatment will enhance the shape, improve hydration and minimize fine lines on your lips. Dr. Ip tailors her treatments to ensure the lip enhancement is proportional with the patients natural upper to lower lip ratio, and also to ensure a flattering profile enhancement is achieved. Talk about artistry!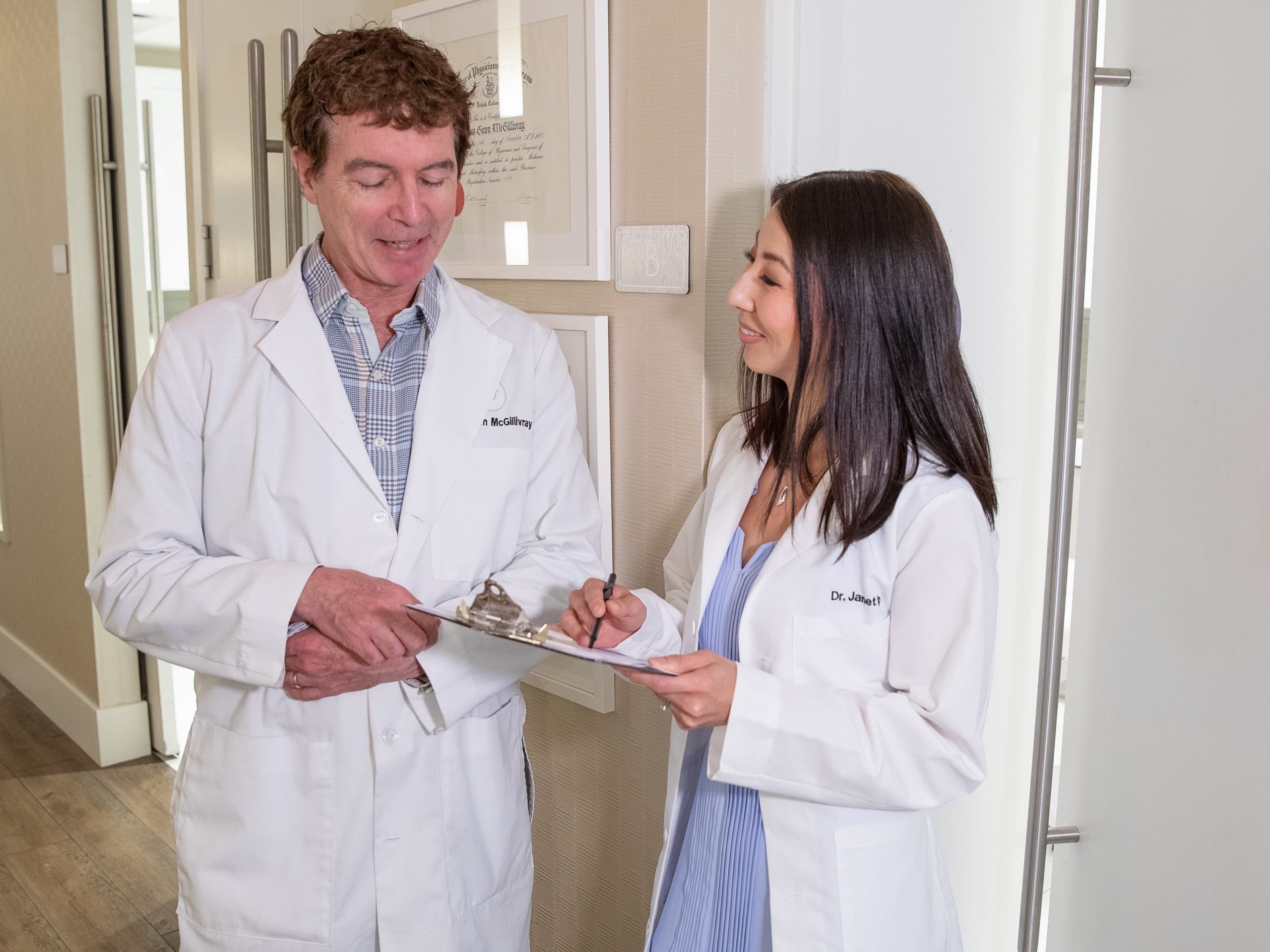 Dr. Ip has been mentored by our very own Dr. McGillivray, and is certainly aligned in her approach and outcomes. We are so grateful to have her on our team, offering exceptional care and amazing outcomes for our #PSpatients. For more of Dr. Ip's results and patient journeys, visit her on Instagram: @drjanetip.
Contact us to book your injectable consultation with Dr. Ip today!