Microblading artist Christine Palylyk answers your burning brow questions.
Unless you've been living under a rock, or on a planet where great brows don't matter, you've heard of microblading. This fast-growing, semi-permanent beauty trend is the key to unlocking your brows' true potential for truly face-changing results. If you're tired of drawing in your brows every morning, or your arches are showing signs of age (who knew eyebrows aged too!), you're going to want to keep reading.
At Project Skin MD, we're lucky to have wildly-talented cosmetic tattoo artist, Christine Palylyk of lyly.ink. With years of experience in cosmetic tattoo, and decades before that as a professional makeup artist, she specializes in hand-sculpted, natural-looking brows that make us say "wow!" Today, she's answering your burning brow questions.
What is microblading?
Microblading is the process of depositing pigment ink under the skin using tiny sterile needles to create long-lasting eyebrow hair strokes. The pigments are made with iron oxides, and absorbed into the body as mineral irons, so the pigment slowly fades over time.
How long does it last?
Microblading is semi-permanent, and the results last anywhere from 1 to 3 years or longer. It should be noted that this depends on the skill of the practitioner. Strokes too shallow fade rapidly whereas strokes too deep end up too dark and blurred.
Will it look natural?
Natural, customized looks are my specialty! The goal is always subtle enhancement of your natural features. I'm a conservative artist and would rather have my clients feel eased into the world of microblading than be overwhelmed with results that don't suit their face. You'll notice in my galleries that there are no "cookie-cutter", "one brow fits all" looks. Each brow is tailored to the individual, and I take great pride in this.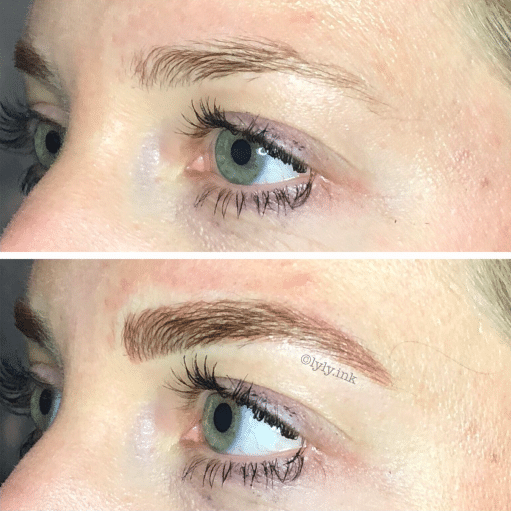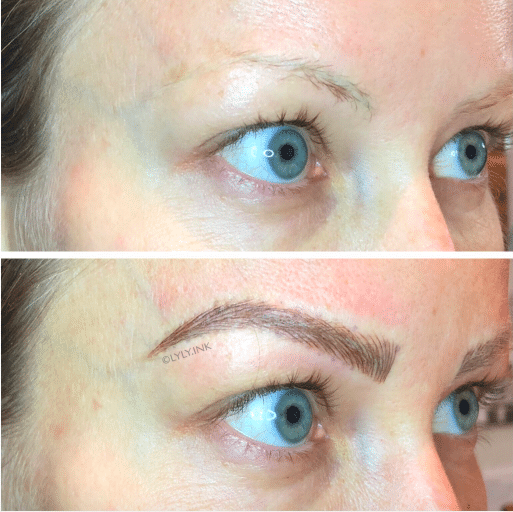 Does it hurt?
Before the treatment I apply a numbing cream to the area to ensure your treatment is as comfortable as possible. I'll check in with you throughout the treatment, but most patients report feeling almost nothing at all.
How long does the treatment take?
Most treatments take about 2.5 hours. This includes determining the ideal shape, custom colour blend, and style. It also allows for adequate numbing time to ensure you're as comfortable as possible. Touch-up appointments are usually 1.5 hours.
What can I expect from the healing process?
When your brows are freshly done, they'll probably appear darker than you expected. Don't worry! The real colour will naturally reveal itself over the next few weeks. You'll be instructed to keep your brows dry, and apply Vaseline on the area for the first few days, and then you can watch as your perfect brows appear!
How often will I need a touch up?
I have my clients come in for an initial touch-up 5 weeks after the initial session to ensure there aren't any gaps in the brows, and that the pigments are absorbing properly. Otherwise, you can expect yearly refresher treatments to maintain your results.
How do I choose a brow artist?
We've got a blog about that! In general, make sure your brow artist is fully qualified, certified, and performing treatments in a safe, clean facility. Do your research, and especially ask to see photos of healed results. Check out the blog for more tips!
What results can I expect?
Besides GREAT brows? You can expect a totally refreshed and youthful appearance! Great brows will lift and frame your eyes in a way no make-up can. You can also expect to shave time off your morning routine – no more drawing in those brows!