CoolSculpting® is the world's #1 non-invasive fat reduction and body contouring technology, and for good reason. Read on to get to know why CoolSculpting® is the gold standard in body contouring treatments, with over 8+ million CoolSculpting® treatments having been performed worldwide in over 80 countries.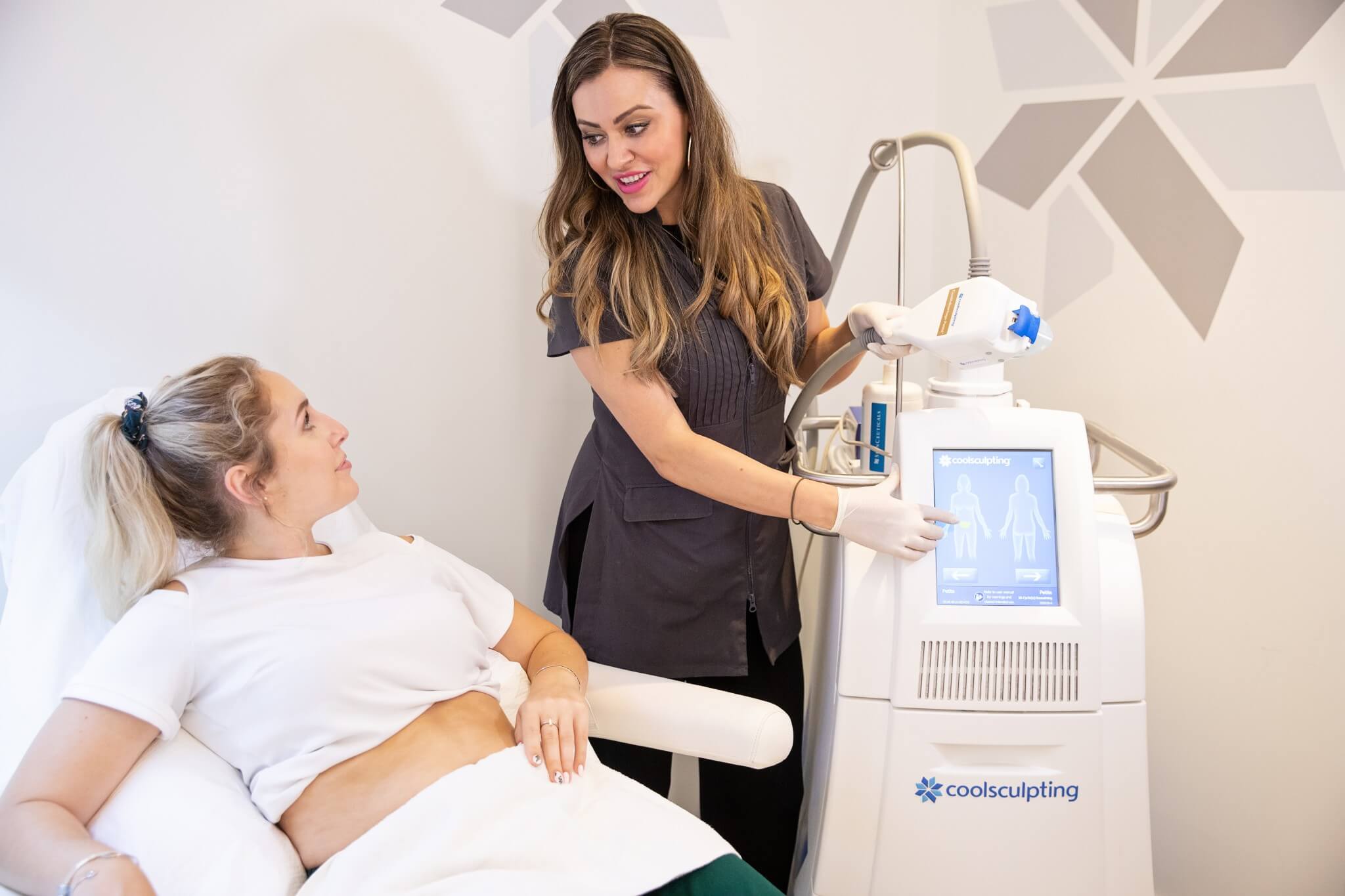 What is CoolSculpting®?
CoolSculpting® is the world's #1 non-invasive fat reduction procedure.
It contours the body by freezing stubborn fat through a process called cryolipolysis
It is recommended to treat under the chin/jawline, inner and outer thighs, abdomen, flanks, bra fat, back fat, and underneath the buttocks
Patients can achieve up to 27% fat reduction after a single treatment
How does it work?
CoolSculpting® treats a particular area, killing only targeted fat cells without any damage to the surrounding skin or tissue.
An applicator is applied to the treated area. Your skin is protected by a gel pad, and the machine then freezes the area to a temperature that kills the fat cells.
These cells then crystallize, and your body naturally metabolizes them over the course of 3-4 months post treatment.
How long does the treatment take?
The treatment takes about 35 minutes per area, and there is minimal to no downtime required after the procedure.
Is the treatment painful?
While the treatment can feel uncomfortable, and the treated area may be numb or tender afterwards, most patients ultimately experience little-to-no pain.
When will I see results?
Some people notice results as early as 1 month post-treatment but full results can take up to 4 months.
How long will the results last?
The results you get from CoolSculpting® are permanent.
How many treatments will I need?
The number of treatments needed depends on your desired results. While some patients are happy with the results of one treatment, many patients like to seek multiple treatments to maximize their outcomes. We recommend speaking with our team during your consultation to develop a personalized treatment plan.
How much does CoolSculpting® cost?
Cost varies based on the applicators used, the areas requiring treatment, and the number of treatments needed to achieve your desired results. Join us for a complimentary body consultation to develop an individualized treatment and payment plan.
We are here to support and empower you to feel your best in your skin. Contact us to book your a consultation to tailor a treatment plan uniquely for you, that is aligned with your goals – and your budget!